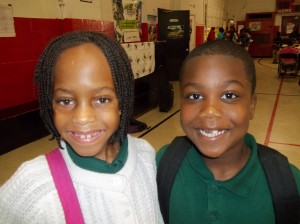 Sister Thea Bowman Catholic School was established in 1989 as a result of the consolidation of four remaining Catholic elementary schools (St. Joseph, St. Martin of Tours, St. Patrick, and St. Philip) in East St. Louis, Illinois. The location of the school is at the site of the former St. Philip School, and is a ministry of the Diocese of Belleville. The school is named for Sister Thea Bowman, a Franciscan Sister of Perpetual Adoration (FSPA). She was an African American religious woman who was an educator, a preacher, a poet, a dancer, and a singer. When she died of cancer in 1990, she left a legacy of Gospel living that will inspire, instruct, and enlighten generations to come.
In 2004, the Diocese of Belleville renewed efforts to enhance the quality of its educational program: new leadership/staff; professional staff development; a holistic approach to learning, including a curriculum integrating Music and the Arts; and, the Peacemaker Program, a discipline approach based on respect and responsibility.
Sister Thea Bowman Catholic School is an urban coed elementary (K-8) school of African-American (95%), Hispanic (2%), multi-racial (2%) and Caucasian (1%) students coming from a variety of faith traditions: six percent are Catholic; many are unchurched. Over 90% of the students receive Title I services and qualify for free or reduced meals according to the USDA guidelines for poverty.