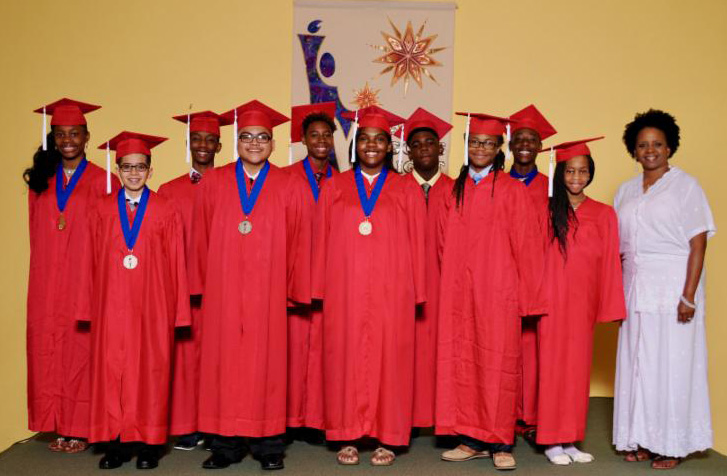 The church was filled with students, families, staff and supporters from our community to celebrate mass and witness the Class of 2017 receiving their diplomas.
Our graduates will be attending Althoff Catholic High School, Belleville West, East St. Louis Charter High and other area schools. One young man will be joining the freshman class of 2017, at Saint Louis University High School this fall. We are proud of all of their accomplishments.
Awards and Recognition: Our students received various recognition in many areas including being Peacemaker All Year, National Junior Honor Society, "Boys To Men Excellence Award" and "Girlz Empowered Commitment to Excellence", Violin Special Group and Liturgical Dance Ministry. They participated in Theater, Robotics, Community Service Projects and Spelling Bee among others. Awards received included National Fitness, Best Sportsmanship and Presidential Fitness Award. Students also participated in extracurricular activities including basketball.
Please take a moment to read our graduate's reflections to learn what our school means to them.
"After I learned the violin, it felt magical and peaceful. It was an instrument of peace just like we should be an instrument of God and His will." (Martin)

"I want to make a difference in this world by becoming an engineer. I want to develop technology to benefit this world and give back to the community and my family in Mexico." (Alex)

"I thank Sister Thea Bowman Catholic School for helping me discover myself. When I first got here, I was in everybody else's shadow. As I grew throughout my years here, I became a leader." (Chenyia)

"I remember when I came to Sister Thea Bowman in kindergarten. My favorite memory … was when I would always try to be the first in line so I could get on the swings first. I thank Mrs. Mary for teaching me about grit…not ever giving up." (Chloe)

"Sister Thea Bowman Catholic School has helped me grow in my faith by helping me build a bond with God, by teaching me scriptures, and by encouraging me to pray every day." (Deonte')

"My faith has grown so much since I came to this school. The teachers here have led me to where I want to be. They've shown me how to use my faith and trust in God to do things beyond what I thought I could do." (Jackie)

"When I got here, I was greeted with peace and love. I have never seen teachers so happy to see a person they didn't know. I want to thank God. He is the one who brought me through a lot of commotion." (Jairen)

"Being at Sister Thea Bowman has drawn me closer to God. I want to make a difference by giving back to communities, such as, East Saint Louis." (James)

"I want to make a difference in the world by making people not doubt themselves, and making sure they're not trying to be somebody they are not." (Korey)

"This school has taught me a lot about myself. I believe God is calling me to be more than ordinary but extraordinary." (Keenan)
THANK YOU FOR TAKING A MOMENT TO READ THESE QUOTES
If you would like to learn more about our school, volunteer or sponsor a student's tuition, please email or call, Email: roberta_trost@yahoo.com or Phone: 618-397-0316