Former STBCS student, Kameron Richardson, was recently featured in The Messenger for his role in the musical Hamilton. READ ARTICLE ON THE MESSENGER
Althoff graduate makes his debut in Hamilton … as Hamilton
By SUZANNE KOZIATEK
Staff writer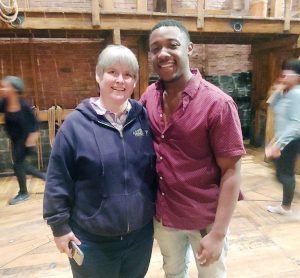 It's one of the most sought-after roles in theater: Alexander Hamilton, the singing, dancing founding father as portrayed in Lin Manuel Miranda's acclaimed musical "Hamilton."
For one former student of Althoff Catholic High School and Sister Thea Bowman Catholic School, the dream of standing in that spotlight has become a reality. Kameron Richardson, a 2011 Althoff graduate, has played Hamilton in the Chicago production of the show twice in late June, and was scheduled to appear again in early July.
He's what's known as an offstage standby performer, who takes over a leading role in a production when the regular actor can't appear.
To make his debut in such a high-profile role has been a mixture of exhilaration and the pressure of hard work.
"I'll have this feeling that this is the greatest job in the world," Richardson says. "But I'll also have this feeling that, wow, this is the job I've got to do.
"Every role helps you to grow, and this is the most I will have ever grown for a role. Because it's just so big."
Richardson's road to the Hamilton stage began well before Althoff. He says his mom tells people that he was singing before he was walking, and when asked in grade school what he wanted to be when he grew up, he said, "an entertainer."
He transferred to Sister Thea Bowman Catholic School in sixth grade.
There, he had the chance to take voice and speech lessons, as well as ballroom dancing – a skill that Richardson says still comes in handy.
"Taking formal dance classes teaches you how to pick up choreography – how to be aware of how your body moves in a space," he says.
When he got to Althoff, he soon met Elaine Laws, who runs the drama program there. "We were in the cafeteria, and when I told her I'd taken ballroom dancing, we started dancing right there in the cafeteria. It was insane."
He soon became a fixture in Althoff's drama department.
"He was like a sponge – he learned everything quickly," Laws says. "He's a great singer and was in our gospel choir.
"One of the first plays he did with us was 'The Odd Couple,' where he played Felix. I knew at that moment that he was going to be an actor – he was always looking for different ways to work with a prop or say a line to make the show funnier."
For his part, Richardson says the arts opportunities he got at Sister Thea Bowman and at Althoff kept him on the right track.
"Instead of being out on the street, getting into trouble, I was at the theater," he says. "And it's not just the arts themselves, it was being around those people. The theater program at Althoff was very strict about being non-alcohol. It kept me straight. While other kids may have been hanging out drinking, we were hanging out listening to music and watching 'Hairspray.'
"That was very integral."
After graduating from Althoff, Richardson spent a year at Webster University and then transferred to the University of Cincinnati College-Conservatory of Music, then moved to New York to start his career. He eventually landed a job with the national production of "Aladdin," performing in the ensemble and understudying for the role of the evil sidekick Iago.
He came to Chicago for "Hamilton," which is playing at the CIBC Theatre. Richardson won the standby position when the previous standby performer got a role in the Broadway production. Next came what he calls an "intense learning situation."
"I learned it in like a month," he says. "I've never been in a rehearsal process before where I wasn't learning with the whole cast. It would be just me and the music guy, or me and the choreographer. As I learned more and knew it better, they'd layer in other folks."
When Richardson learned of his June 23 debut, he made sure to let Laws know.
"He said, 'Hey Coach, what's going on? What are you doing June 23 and 25?'" Laws says. "I asked what was up and he said, 'I'm going on as Hamilton on Sunday and Tuesday.'"
A whole cheering section arrived from Belleville, including Laws, Richardson's mom and other family and school friends.
He notes that while his mother has seen him in other smaller plays, the magnitude of the "Hamilton" production was a huge change.
"This is the biggest role and the biggest show I've worked in," he says. "She was blown away."
He's currently learning the two other parts that he covers – Aaron Burr and King George III. Laws has promised to come see each of his debuts. "He said, 'You don't have to come for King George, he's not even in it that much,'" Laws says. "I told him I'm coming."
Richardson, who turns 27 this week, says he hasn't thought much about what comes next, after the show closes in January. Right now, he's still immersed in the life of Hamilton the man, and "Hamilton" the production.
Asked about his favorite moment in the play, Richardson talks about a scene late in the show, after Hamilton has been laid low by scandal and his son has died in a duel.
"He's talking to his wife and she grabs his hand and he breaks down – I think that's my favorite moment," he says. "You have to go way beyond yourself to even understand that place."