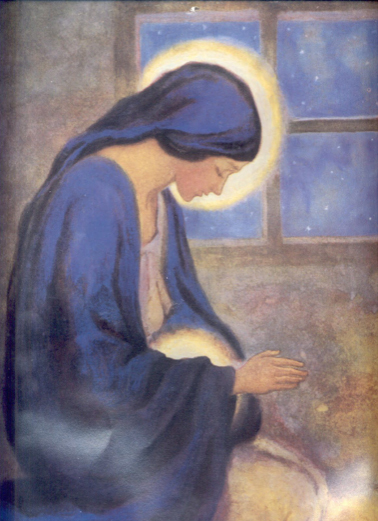 "The loveliest image of Advent is pregnancy. We keep Advent in the company of the Blessed Virgin Mary.  During Advent, we remember her expectation, when she waited for the birth of her child. Through the message of the archangel Gabriel, she heard God's word and kept it.  She as filled with the Holy Spirit, and in her body the body of Christ came to be.
Waiting for the birth of a child is a bit like waiting for Christmas.  During pregnancy, there's a strange and wonderful mix of happiness and nervousness, of contentment and fear. Those are good words to describe Advent"
School Year, Church Year
Some important dates:
Monday, December 6…………………12:30 Dismissal
Wednesday, December 8………………Donuts with Dads
For Your Information:
Tomorrow (December 3) is our November Peacemaker Day. All students who will be celebrating in our Peacemaker activities will be having a dress down day. Remember that our uniform tops still need to be worn, but Peacemaker students may dress in jeans (no holes).
A friendly reminder that all students need to have masks when they are in the school building. New masks cost $.50. Please note this is not for punishment. First, it is a safety measure so that our COVID numbers continue to stay low. Second, we are running out of masks, and will need to continue to purchase more.
Please see the additional sheet about our Annual Advent Prayer Service which will be held on Tuesday, December 21 at 7:00 PM.   Please note that ALL students (boys and girls) will be required to wear a white, button-down dress shirt, black pants and dress shoes (no heels). More information will be coming in the next few weeks, but we ask that you put that on your calendar. Thanks!
Our Advent Prayer Service is an annual event, but our students have not ministered for the past few years (due to COVID). This is an integral part of our  faith-based education and one that our students have been preparing for many weeks.