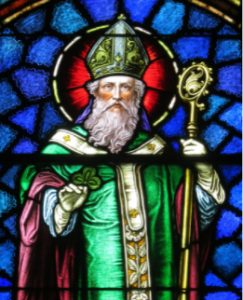 St. Paddy's Day started as a religious celebration in the 17th century to commemorate the life of Saint Patrick and the arrival of Christianity in Ireland. This "Feast Day" always took place on the anniversary of Patrick's death, which was believed to be March 17, 461 AD. In the early 18th century, Irish immigrants brought the tradition over to the American colonies, and it was there that Saint Patrick started to become the symbol of Irish heritage and culture that he is today. As more Irish came across the Atlantic, the Feast Day celebration slowly grew in popularity. So much so, in fact, the first ever St. Patrick's Day parade was held in Boston in 1737.
Some important dates:
Wednesday, March 23 – 8th grade students to Greenville College
Wednesday, March 23 & Thursday, March 24 – Report Card Conferences
Friday, March 25 – No School
Wednesday, March 30 – 6th grade students to Fontbonne College
Monday, April 4 – ½ day Dismissal
Thursday, April 7 – Sister Thea Bowman Open House and STEM Night
**Please note:  The East St. Louis School District Spring Break is Monday March 28 through April 1. During that week, there will be no bus transportation for Sister Thea Bowman.  We will still have our Extenday Day program as well as Access Academy, so please plan accordingly for your student's morning, afternoon, and evening transportaiton. Thank you.
For Your Information: 
Report Cards Conferences will be held on:

Wednesday, March 23 from 4:00 PM to 8:00 PM (3:30 Dismissal / No Access or Extended Day)
Thursday, March 24 from 8:00 AM to 8:00 PM (No School)

Please mark your calendars for the evening of April 7.  This is our Open House / STEM Night for Sister Thea Bowman.  Our newly completed STEM room will be able to show itself off and see all of the great activities and learning opportunities for our students for years to come.  We also want to take that evening to show prospective students how great our school community is (and the great things we have coming in the future!).  Please, if any one you know is interested in sending their children to Sister Thea Bowman, please have them reach out and come to "Our Place" on April 7.   More information will be coming shortly.
5th grade families only: Access Academies Parent Meeting (via zoom)  with Mrs. Spencer. Tues. March 22nd @6pm. Please check your email for zoom information.